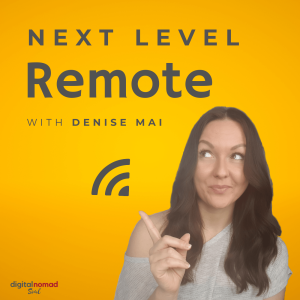 Tuesday Jun 29, 2021
NLR 25: Why You May Hate Coworking Spaces & Alternative Remote Work Places
Coworking spaces are popular with remote workers and digital nomads. However, there are not only benefits of using a shared office (check out episode number NLR 24). This episode explains some significant downsides to coworking spaces and suggests potential alternative work spaces if you work online.
Mentioned in this episode:
- Apps to find coworking spaces: Work Hard Anywhere, Coworker.com, Workfrom.co
- Remote work programs: Nomad Train, Hacker Paradise
------------------------------
Learn more about remote work and the digital nomad lifestyle:
Website: //www.digitalnomadsoul.com/
Facebook: //www.facebook.com/digitalnomadsoul
Twitter: //twitter.com/DigitaNomadSoul
Pinterest: //www.pinterest.de/digitalnomadsoul/
------------------------------
💻 FREE Online Training: 3 Steps to Start a Remote Work Career from Scratch – Join the Free Webinar and Kickstart Your Online Job Today: //www.digitalnomadsoul.com/webinar/
🚀 Online Course: Rock Your Home Office – ALL Tips & Tricks You Need to Know to Work Remotely Successfully: //www.digitalnomadsoul.com/remote-work-online-course/  
📱 eBook: How to Become a Digital Nomad – Packed with Hands-On Information on Preparation, Finances, Travel Hacks, and so Much More: //www.digitalnomadsoul.com/how-to-become-a-digital-nomad-ebook/
------------------------------
If you enjoyed this episode, it would mean the world to me if you could subscribe to the Next Level Remote podcast, give it a thumbs-up, and leave a review on your podcast platform. Thank you!
------------------------------
Disclaimer: Please be advised, that some of the product or service links may be affiliate links, which means I may receive a small commission if you make a purchase using these links. This is at absolutely no extra cost to you. I only recommend services or products that I believe are of value to my readers.
Comments
(0)
To leave or reply to comments, please download free Podbean or